Text is one of the key elements of any game and you can hardly find any game without it. Be it menu labels, instructions, or score, there are almost always pieces of text. Unfortunately graphics engines like OpenGL do not include text manipulation in their core API. Today start creating our own text rendering system to overcome this problem. This discussion is so long that I have no choice but to break this into parts. Today we only create a simple font. Next day we will discuss how we can use this font to draw text.
Background
There are two main approaches to displaying text in a 3D environment.
Outline fonts
In this method, an actual TrueType or another outline font format is used to create text. Glyphs (characters) in the font are actually converted into a series of polygons, and then rendered just like any other 3D object. This method has some advantages, namely that you can manipulate characters and transform them like any polygon, and you can create 3-dimensional embossed version of the text. However, if the characters are very detailed, your polygons can be large and rendering can take longer (unless you give up the details to some extent).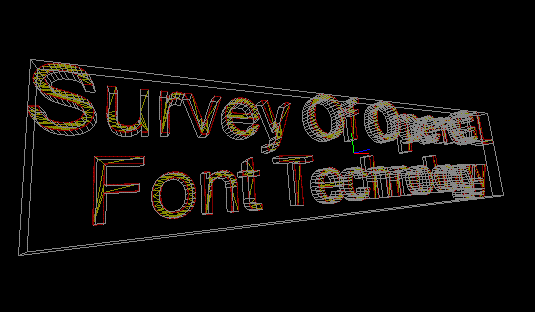 Texture-mapped text
Using this method, glyphs are rendered onto a bitmap, which is later used as a texture to represent text. We talked about texture atlases in day 4. Now imagine an atlas that contains all possible characters of a specific font. Once we load such a texture, we can draw a full text by cutting pieces out of it and drawing them on simple rectangles. This is the basic idea behind this approach.